Paulette started rowing in college at PLU and then continued rowing competitively for another 7 years at the Minneapolis Rowing Club. She later moved to Bellingham and coached WWU Women's Varsity Crew from 1988-1993. She was elected and served on the board of directors of the United States Rowing Association from 1994 – 1998. She has won multiple National Championships and is in the PLU Athletic Hall of Fame.
Paulette loves all types of boating and makes her living on the water as a Licensed Coast Guard Captain. In addition to teaching sailing and yachting, she has been facilitating team building on sailboats for over 10 years. Paulette is especially passionate about rowing and has witnessed the positive influence sport has on so many lives. She continues to both row and coach at WRA.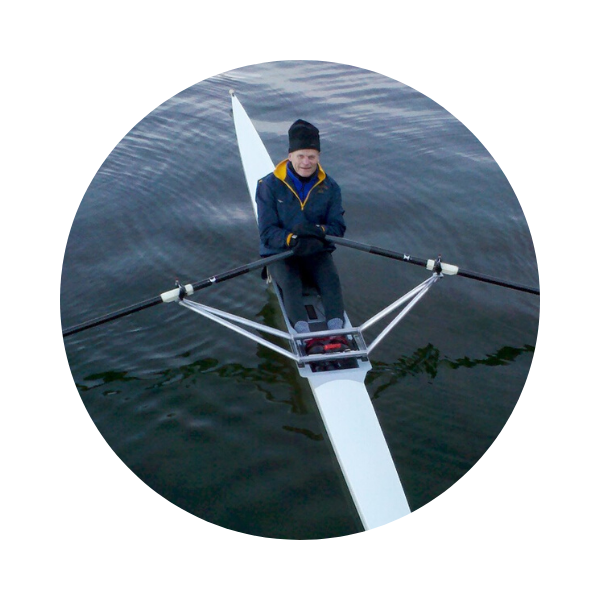 Bob started his long rowing career at the University of Washington in 1958. There, he rowed collegiately until 1961. His first coach was Al Ulbrickson who coached "The Boys in the Boat" and defeated the Germans in the 1936 Olympics. Bob was undefeated in his college rowing at UW. Returning in 1965 after serving in the US Army, Bob had a strong desire to begin a rowing program in Bellingham. He started the Western Washington University rowing team in 1969 and remained the head coach for six years. In the meantime, Bob pursued an active schedule of rowing competition, rowing against people from all over the world. He won gold, silver and bronze at the 1994 World Master Games in Brisbane Australia and multiple medals and in the 1998 Niki World Master Games in Portland. Winning several Regional Championships, Canadian and American National Championships, he rowed the single, double and quad, Bob continues to be an active sculler to this day.
Nancy came to rowing later in life, signing up for a Learn to Row class with WRA in early 2017. What she lacked in natural ability she made up for with enthusiasm and perseverance. The good coaching and encouragement she received from the club didn't hurt either. In 2018 she began rowing with the WRA Masters, and has since raced happily—and sometimes successfully—with the crew in several local regattas. Nancy's experience demonstrates that one doesn't need a rowing pedigree to find joy in the sport, camaraderie with teammates, and a sense of personal triumph that comes from doing better than you thought you could do.
After retiring from a career in economics, Nancy joined the WRA Board as Treasurer in 2021. Pre-COVID, she rowed in team boats on Lake Whatcom with the mid-morning Masters group. During COVID she found that rowing in a single scull was the perfect way to be social, and socially-distant at the same time.
Lisa began with WRA in 2016 after signing up for Learn to Row, hoping to eventually learn to scull and with no thoughts of rowing as part of a team. Having been a competitive swimmer from the age of 5, getting involved in a true team sport was a new experience, but one that took hold quickly and hasn't let go. She loves diving into the details of technique and figures the speed will come eventually. Lisa is looking forward to getting back in bow seat once we can can resume team rowing.
Lisa enjoys her time off the lake hiking with her dog Zeke, cross country skiing (when the border is open), finding other ways to be outside, and dreaming of travel to faraway places. Work days are spent as a Nearshore Program Manager for the non-profit Northwest Straits Foundation where she restores our marine shorelines for salmon, Orcas, and all the other critters that rely on healthy habitats.
Melissa Bertocchini
Melissa
 learned to row in 1996 while serving in the US Army.  Throughout her rowing tenure, 
Melissa
 has focused on sculling and racing small boats.  As an avid rower, 
Melissa
 can be seen on the water year-round, sometimes with ice on her oar locks.
Melissa raced for Lake Union Crew and College Club Seattle's Masters Competitive Teams, winning several local and regional regattas to include Head of the Lake, Tail of the Lake, Falcon Four Miler, Opening Day, Row for the Cure and multiple Northwest Masters Regionals events.
When she's not rowing, 
Melissa
 enjoys cycling, hiking, paddling and spending time with her wife (and doubles partner), Sandy, and their two dogs.  Though 
Melissa
 is relatively new to WRA, she appreciates the club's emphasis on community inclusion and rowing for all.
Karen Fradley
JUNIOR PARENT CO-CHAIR
Becky saw her first rowing shell up close at the WRA boathouse during an open house event in June 2015 and was immediately intrigued. She learned that day that rowing isn't just for exceptional collegiate athletes, and that being 5'4" and of a certain age are not barriers to fully engaging in and enjoying this amazing sport. Becky enjoys the teamwork and camaraderie of rowing in the larger boats as well the quiet solitude of a single scull and feels fortunate to be able to do it all on beautiful Lake Whatcom, winds permitting. 
Joining the board in 2021, Becky hopes to use her 25+ years of non-profit management experience to support WRA's continued efforts to provide inclusive and engaging Junior and Master programs, year-round coached sessions, a variety of racing opportunities, individual lessons and independent equipment use.
Drew was born and raised in Bellingham. He began rowing with WRA in the Spring of 2014. He was invited to a National Learn to Row Day by a friend and club member and was hooked the moment he got in the boat. While he has played many team and individual sports in his life, he enjoys the comradery, competitiveness, the challenge and high level of fitness rowing provides. Being a third-generation in Whatcom County, he has seen many changes in the county. One thing that remains constant is the beauty and splendor of Lake Whatcom and the surrounding area. Most calm mornings, Drew can be found on the lake enjoying; a wonderful row with fellow members and a beautiful sunrise. When not on the water, working out, hiking or spending time with family and friends, Drew is a realtor with Windermere Real Estate.
Katy Smith started rowing in college at Western Washington University.  She rowed 4 years for WWU, competing at the NCAA National Championships her last 2 years, and was named a Division II All American Athlete by the National Rowing Coaching Association in 2002. Katy was the assistant coach of WWU women's crew team in 2003, before moving back to her hometown of Tacoma, WA to pursue graduate school. She returned to Bellingham in 2009 and was thrilled to join WRA when it started in 2011.
Though Katy has taken breaks when she was pregnant, she has been a regular member of the early morning master's group. She has been involved with the fundraising efforts of WRA and joined the board in the summer of 2017. Though rowing is her passion, she also enjoys swimming, jogging, and occasionally participating in triathlons. When she is not on the water or at the boathouse, Katy can be found working as a physical therapist at Fyzical Therapy and Balance Center of Bellingham and raising her three children.
Tom began rowing in 2000 at the Sammamish Rowing Association in Redmond, WA. Tom spent nearly 11 years rowing with the "early morning group" and also served on the SRA Board before moving to Lummi Island full time. Tom and Bob Diehl started having conversations about starting a rowing club in 2008 and has been serving on the board since shortly after the first brainstorming meeting. Now Tom serves as the Equipment Chair for WRA and rows both with the mid-morning group and in his beautiful single!
Sarah Witte
Junior Parent Co-Chair